About Our Projects
Our range of projects has been anywhere from $1200 to $400k, so no matter how small we can handle most projects with success in a timely manner. We do not just limit ourselves to the central Indiana market. Feel free to browse some of our past projects to get a feel of the service we can provide with regard to masonry construction.
Midwest ISO pedestrian bridge
This was a project involving four brick columns integrated with the bridge to connect the precast addition across the street. As you can see we have brick, limestone medallions, and limestone water table banding.
Richard Roudebush VA Medical Center Addition
This project was a two-story vertical addition to the existing structure. The building is a good example of a structural steel building with a metal stud extior clad with Utility brick and limestone accents topped with limestone coping. We extended the exsting stairwell shaft, which was constructed with 12" CMU wrapped with brick to match the existing building. We used hydraulic mast climbing scaffolding around two sided of the building whle using frame scaffolding down the alleyway. The project was very challenging due to the constraints of the building site. In addtion, we had to shore up the existing dock area roof so that we could set the mast climbing equipment upon the roof with a crane. This project was completed in October of 2010.
Before and During Project
Project Completed
Reformed Presbyterian Church
This was a project completed in 2008. We laid the masonry block for the foundation and then installed the limestone veneer as seen. This was an addition to the existing structure in which we had to match the existing stone work. This project is a great example of a rough ashler pattern.
White Castle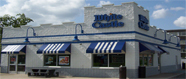 Contracts through Arlington Construction. Splitface block wall construction. Constructed a dumpster enclosure/storage building We have completed 5 stores at this time.